Skywarn Volunteers Respond to Severe Weather
Friday, June 22, 2007
By JEFF CAGLE
Press staff writer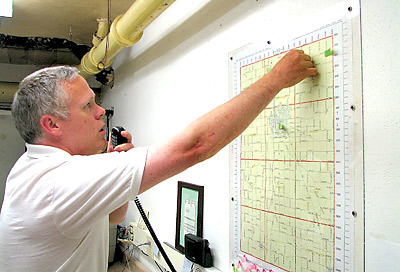 OWATONNA - Skies were sunny and beautiful for most of the day Wednesday, giving people a good enough excuse to go outside.
But after the dinner hour, ominous clouds to the north were quickly approaching Steele County. On the phone is Dave Purscell, coordinator for the Steele County Skywarn team.
"We've got some storms coming in from the north. I was wondering if you want to come out and play," Purscell asked fellow volunteer Mark Schultz Wednesday evening.
Skywarn is a concept that was developed in the early 1970s which puts volunteers out to watch severe weather as it develops. Some of the observations they make include lightning strikes, rain, hail and wind.
Steele County volunteers report back to Purscell, and the information is then passed along to the National Weather Service and nearby communities.
Purscell said the county Skywarn team currently has 22 members. Of the 22 volunteers, 18 went out Wednesday, some about a half hour before the first storm hit Steele County.
Wednesday night and Thursday morning, three batches of cells came through Steele County, dumping pea-sized hail which covered a road near Meriden, while other areas had sparse amounts of rain.
The first cell came through the northeastern edge of the county at a slow pace. Tim Dorway, a Skywarn volunteer, was on his way to do some weather spotting at County Road 1.
Along the way, he saw dark skies, eerie clouds and a lightning show. One bolt of lightning struck the ground.
"I wish I would have had a camera for that," Dorway said, feeding off the excitement of potentially dangerous weather.
As he drove, Dorway said he first became interested in severe weather on July 15, 1980, when he was living in Chippewa County, Wis. That night, there were a total of 15 tornados reported in the county, prompting Dorway, his parents and siblings to sleep in the basement.
Although nervous, Dorway said he became fascinated with severe weather and decided to pursue an opportunity to serve as a weather spotter. Dorway said his family is nervous enough with him going out. He's married and the father of three children ages 10, 8 and 5.
Weather spotting, he said, is service-oriented, something he's interested in and it allows him to have an amateur radio license.
"I'm also the kind of person when the tornado sirens sound, I go out to my deck," Dorway said.
When he arrived at the scene of the storm Wednesday, Dorway set up a radio to communicate back and forth and forth with Purscell who was stationed at the fire department. At the site, he listened to other weather spotters give updates on storms. Some reported pea-sized hail and cloud to cloud lightening.
At Dorway's spot, the site looked ominous, but there was no action. And in a way, was almost a let down for a weather spotter who yearns for excitement.
Dorway headed west toward County Road 8, where a second cell was about to hit Steele County. Reports earlier Wednesday indicated the cell produced some rotation.
When Dorway arrived at County Road 8, the sky was black and the only light available was from lightning in the sky.
"That's a dangerous time for spotters and it's difficult time to work," said Mike Johnson, emergency management director for Steele County. "If you get into the cell, you can't see anything."
But it's also important for them to be out there. Because the National Weather Service is based out of Chanhassen, Doppler Radar is not always able to pick up severe weather conditions and small tornados.
Dorway waited at County Road 8 and reported heavy rain and cloud-to-cloud lightning. He anticipated hail would fall due to a high cloud elevation.
It remained safe in his area. Other storm spotters reported pea-sized hail and heavy rain.
When the storm moved south of Owatonna and into Ellendale, Dorway drove to Hwy. 14 to watch the back end of the storm for any rotation or tornadic activity. Nothing was reported by the National Weather service until it hit Freeborn County and a tornado warning was issued.
Meanwhile, Dorway and a majority of the weather spotters called it a night. Johnson and Purscell, however, continued to monitor the weather conditions.
Around 3 a.m. Thursday, a third cell came through producing a severe thunderstorm in the county with heavy rain and marble sized hail. No damage was reported.
Johnson and Purscell both said the weather spotters did a great job staying out late Wednesday.
"When you get three waves coming through, it gets to be a long night," Johnson said.
Purscell said they are looking for more volunteers interested in becoming weather spotters. In order to participate, each volunteer must go through weather training by identifying clouds and following safety measures.
Johnson said people should also be prepared to educate the public on weather conditions and safety by speaking to community organizations and other church groups. And doing this isn't cheap due to gas prices, time and resources.
"They're all volunteers and never get paid for this," he said. "Some vehicles may not be able to do this. But it's a a good way to help your community," Johnson said.
Anyone interested in volunteering for Skywarn is asked to call 444-2454. Purscell said classes may begin as early as July.
Jeff Cagle can be reached at 444-2378 or jcagle@owatonna.com.
Courtesy of Owatonna People's Press