Skywarn Provides Weather Radios
Sunday, March 9, 2008
By WENDY REUER
Press staff writer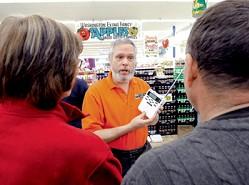 OWATONNA - Spring will eventually come and with storm season approaching fast, Steele County Skywarn and Amateur Radio Emergency Service members were on hand at the Owatonna Hy-Vee to provide weather radios and programming to anyone interested Saturday.
"It's been overwhelming, more than what we anticipated," said Delores Potter, Skywarn member.
The National Oceanic and Atmospheric Administration (NOAA) sanction the all-hazard radios which give an advance warning for hazardous or dangerous weather.
The radios broadcast consistently updated reports during times of storms. They also air messages about other types of natural or human-caused hazards.
The radio has a weather alarm which will signal even if the volume is turned down so that a threat, such as a tornado, may be alerted.
"So it gives advance warning that a storm is coming," said Eileen Wohlenhaus, Skywarn member. "Not everybody, especially in rural areas, will hear a siren."
Although this is the first year the two groups have sponsored such an event, Skywarn member Deuel Potter said the positive feedback may lead to making it an annual event.
Potter said he began planning for this year's sale in December.
Mid-day of the sale the group had already made a run for more radios, selling more than 150 by the end of the afternoon. Not only were the groups selling the radios at a discounted price, they helped program the radios to pick up Steele and Waseca counties.
"Rather than have it go off anytime there is a storm in Southeastern Minnesota, you can program it for your county specifically," said Bob Rinaldi, Skywarn member.
The radios can be programmed repeatedly, a feature useful for traveling.
"People can actually re-program them if they are going camping somewhere, for example, and want to be aware of the weather in the area," Wohlenhuaus said.
The event was co-sponsored by the Owatona-Steele County Amateur Radio Emergency Service (OSCAR) which consists of licensed amateur radio operators who voluntarily register their qualifications and equipment for communications duty for the public, especially when disaster strikes.
They are the primary way of communicating between public service agencies and counties during times of natural disaster, said Tom Karnauskas, emergency coordinator for OSCAR.
"Many Skywarn observers use amateur radios to communicate from the field," Karnauskas said.
For those who did not have a chance to attend Saturday's event but are interested in a weather radio, contact the Steele County Skywarn online at www.steelecountyskywarn.org.
For those interested in the Skywarn program or becoming a storm spotter, a training session will be held Thursday, 7 p.m. at the Owatonna Fire Station.
Wendy Reuer can be reached at 444-1565 or wreuer@owatonna.com
Courtesy of Owatonna People's Press