Storm Sighting: Concerned residents and storm chasers
alike gather for Skywarn training
Friday, March 15, 2008
By WENDY REUER
Press staff writer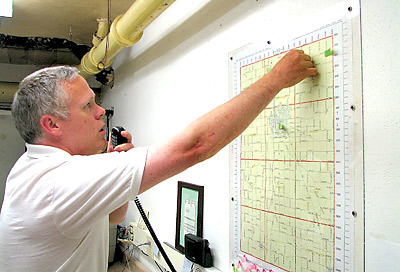 OWATONNA - A number of warning signals are in place to warn the public of dangerous weather approaching. Most are created by the National Weather Service but when the NWS needs detailed local information, it depends on storm spotters such as members of the Steele County Skywarn.
On Thursday, the public was invited to take part in the 2008 Steele County Skywarn Training class, to become official severe storm spotters after the three-hour class.
Dave Purscell, Skywarn Coordinator, said the class had a total of 59 people attending.
"I was glad to see the turnout, I was hoping for about that many," Skywarn member Deuel Potter said.
Some attendees were newcomers, such as Marliese Severson, who attended with her husband.
"We live out in the country so we don't get the sirens," Severson said. "We wanted to learn the warning signs and what to look for."
Severson is also CERT certified and a member of the Red Cross Disaster Team.
Other attendees were returning to the training for renewal such as Deb Souba, who is a not only a storm spotter but also a storm chaser.
"I just love storms," Souba said. "What better way to watch storms than [chasing them.]"
Karen Trammell, meteorologist for the National Weather Service in Chanhassen, said the NWS recommends renewing training every two years.
Trammell said basically anyone who receives regular training and is willing and able to become a spotter can become one. The National Weather Service depends on tips from trained spotters to alert regions if dangerous weather is approaching. Trammell said radar does not always give the most accurate depiction of exactly what is happening.
"It sure doesn't beat the human eye," Trammell said.
The class followed on the heals of Skywarn, and the Owatonna-Steele County Amateur Radio Emergency Service's push of sales for emergency weather radios on March 8.
"It is as important to have one of those radios in your home as it is to have a smoke detector in your home," Trammell said. "Because it is essentially a smoke detector for weather."
Trammell said she was impressed with the number of people in the class who indicated they own a weather radio.
For more information about the Steele County Skywarn, visit the Web site at www.steelecountyskywarn.org. The next regular Skywarn meeting will be held on Tuesday.
Wendy Reuer can be reached at 444-1565 or wreuer@owatonna.com
Courtesy of Owatonna People's Press