And Now We Wait
Thurssday, March 24, 2011
By Clare Kennedy
Editorial Assistant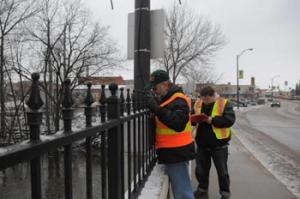 OWATONNA — At this point, it's hard to say if the flood waters in Steele County are coming or going. Water levels hit a peak Wednesday morning and appeared to be falling by noon, but then rebounded by the 5 p.m. rush hour. Wednesday morning's readings showed increases on all waterways after a period of sustained rainfall Tuesday night. The Straight River and its tributaries hit their highest point since this episode of flooding began with the spring melt last Thursday.
By 9 a.m. the Straight had swollen to 1,128.73 feet above sea level, the highest reading yet. Last Thursday, the river's water levels were five feet lower — about 1,123 feet above sea level. Downstream, the National Weather Service recorded a peak on the Straight as well — at 10.72 feet above its normal levels. According to reports from the county's emergency management team, the Straight's tributaries also hit highs during the morning hours.
The trend reversed itself by noon when monitors recorded slight decreases, but rebounded slightly by the afternoon. At this point, it is unknown when a true crest may come.
"It's still going to be tough to say that," said Steele County Emergency Management Deputy Director Chris Gannon. "Overall since Monday, the Straight has fluctuated within a one-foot gap."
So far, the vacillating waters have not threatened structures in the county. Only one road was cut off — a rural road around the Lemond and Berlin townships, Gannon said, but that was an incident of runoff pooling from surrounding farm fields. He estimated that the flood waters would have to rise another foot to a foot-and-a-half before other roads would be cut off.
Gannon said the state of emergency enacted by the city and county on Tuesday remained intact merely as a protective measure at this point. Likewise with an announcement issued by the National Weather Service on Wednesday afternoon that extended the flood warning for the region until Friday. Officials at the agency stressed that this warning was a broad warning, that was not based on specific flood forecasts from the area.
"It's an overall warning for just high water in different, localized places — creeks that may be overflowing, water on rurals roads," said forecaster Jim Richardson of the weather service. "That's the basic reason for that."
Some businesses and residents were not taking any chances. Owatonna's Cars-N-Credit spent Tuesday and Wednesday moving its stock off the lot to higher ground, said Pat Burgos, the manager of several franchises in the region. The business lost its entire fleet of used cars during the last flood incident in September 2010 and had to gut its office.
"We called emergency management services, and they helped us to find a place to move the cars. Other than that, we're trying to move our equipment off the floor so it doesn't get damaged," Burgos said. "We hope it will be cresting a lot lower this time. (In September) the waters came so quickly we didn't have a chance to get out of the way."
The car dealer is also taking preventative measures at locations in Albert Lea.
Fortunately, the Weather Service is forecasting cold weather with little precipitation.
"It looks like a fairly dry period coming up here, going on for perhaps a week or so. There is some chance of precipitation perhaps moving across some of the area on Friday or Saturday, but that could be south of us," Richardson said. "It may hit southwestern Minnesota and into Iowa."
If a storm does brush through the area, there is a good chance that it may not bring rain, but more snow. However, it is possible that it could miss Owatonna altogether.
"It could just be a dry week," Richardson said. "Things are looking quieter out there."
Based on the forecast, Gannon was optimistic.
"We're feeling a little more confident," Gannon said. "But we're still playing a waiting game with it, seeing if our expectations come in to play."
Clare Kennedy can be reached at 444-2376.
Courtesy of Owatonna People's Press