SKYWARN, Hotels Aim to Keep Travelers Safe During Storms
Wednesday, March 30, 2011
By Ashley Peterson
Editorial Assistant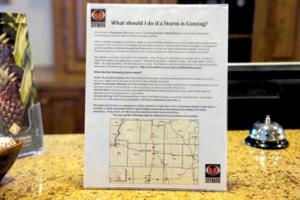 Imagine being a tourist or a passerby caught in the heart of a storm and finding refuge in a local lodging establishment.
For many travelers in Steele County, this was the case last year as the area saw its fair share of tumultuous weather. At the time, hotels and motels in the area had little or no information readily accessible for their patrons who were concerned with blinking warnings on their TV screens or sirens audible from within their hotel room.
But now, thanks to the efforts of local SKYWARN volunteers, all 10 of Owatonna's lodging properties have been provided with a single sheet of invaluable information regarding what to do when confronted with severe weather in Steele County. The idea originated when Steele County SKYWARN coordinator Dave Purscell saw a similar sheet of information while at a Harlan, Iowa, hotel last year.
"We had been visiting business associates in Harlan, Iowa, and in the hotels I noted their local SKYWARN group had provided something like that in the hotel properties," Purscell said.
Purscell thought that the Harlan SKYWARN initiative could be adapted easily for local use.
"Harlan is in a similar situation as Steele — hotels along a major interstate, and typically when you're in a hotel you have a good idea where you are, but you probably don't know the county you're in or the surrounding communities unless you're from that area. So you hear warnings come out and you have no clue whether or not that affects you or not. Our goal was to give lodging properties managers ways to give that information to their guests."
The information includes the city's location within the state, different types of watches and warnings and what they mean, a map of the area to highlight counties and cities as well as specific severe weather instructions.
Lisa Havelka, tourism director for the Owatonna Area Chamber of Commerce and Tourism, said all the lodging properties have been e-mailed PDFs of the information sheet created by local SKYWARN volunteers. She, too, thinks the information will reach weary travelers when they need the details most.
"This is a visitor's home away from home. They may not know the county, region, news station or radio stations. It's trying to better educate the visitor when they're here should there be severe weather," Havelka said. "SKYWARN put this together over the winter months and launched it last week Wednesday with a presentation."
Comfort Inn's general manager Vicki Lysne said she is planning on using the severe weather information in the hotel as soon as the company's print plant sends the final product to them.
"Absolutely, this is a great resource for our guests. So often the guests are not from the area. Sometimes they've pulled over just because of the weather and weren't planning on visiting, just getting off the interstate. If they do exit because they're road weary, having that information with city, county, channel info — that is very helpful. We're really excited and thankful to have that," Lysne said.
Perhaps one of the first hotels to have the information posted in every guest room as well as at the front desk, the Country Inn and Suites general manager Kelly Boomgarden said she wanted to move quickly as storm season is fast approaching.
"You look at the last year of the turbulent storms we've had and one reason (SKYWARN) came to talk to us and reach out to hotels was to educate us so we could educate our guests," Boomgarden said. "It's important because guests don't know details about their whereabouts and they see storm warnings on the screen and may not even know about severe weather in the area." She said the readily available severe weather information will be just as useful for the guests as it will be a help to hotel staff.
"Also with having that info provided in their guest rooms alleviates a lot of the calls we are inundated with when guests hear the sirens or see the warnings. It's something really helpful not only us and our staff but also our guests," she said. "Now we can direct guests to the informational guides and hopefully calm some fears, too."
Though it's not yet tornado season, Severe Weather Awareness Week in Minnesota is fast approaching on April 11-15.
"We haven't come into the tornado season yet, but that will be coming. We're in sort of that preparation to get properties thinking about what they need to be doing because March through September is when we have a lot of of our larger conventions, trade shows, meetings, the fair. So it's really important we are prepared for it now ahead of time," Havelka said.
Ashley Peterson can be reached at 444-2378.
Courtesy of Owatonna People's Press