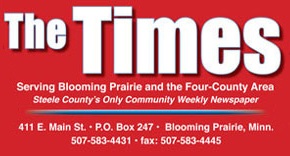 Group Helps Citizens Prepare for Storms
Tuesday, May 20, 2014
By Anna Segner
Summer County Staff Writer

Representatives from Steele County SKYWARN gathered at Hy-Vee on Saturday, May 17, as a community service to fix weather alert radios or answer any questions regarding SKYWARN. The radios are county specific and should be set to one's home county and the counties to the south and west of their county. The weather radios were on sale at Hy-Vee and people were bringing in their weather radios for check-ups.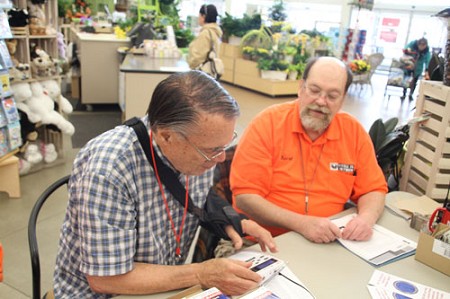 Deuel Potter and Kurt Miller fix a community memberís weather radio
so it is ready for this summer at the
Steele County SKYWARN booth at Hy-Vee in Owatonna.
SKYWARN representatives and storm spotters Mike Conrad, Deuel Potter and Kurt Miller explained that SKYWARN works with the National Weather Service to safely report and warn about threatening weather conditions. SKYWARN uses an abundance of advanced technology to provide the public with weather reports. It encourages all people to have radios and be aware of sirens. SKYWARN's number one goal is safety. "Sirens do not mean run outside, sirens mean seek shelter," said Conrad. According to Conrad, it is also important for people to understand that the end of a siren does not mean all clear, but rather seek shelter and tune in to a radio for updates.
SKYWARN's next event will be a June 28-29 public demonstration at the southeast field of Willow Creek Intermediate School in Owatonna of its response to severe weather conditions.
Courtesy of The Times