Where's the Fire Station?

The Owatonna Fire Station is located at 107 W. Main Street in downtown Owatonna. From I-35:

Exit at Bridge Street (Exit 41).
Bridge Street East to the 3rd traffic light (Oak Street). Bridge Street becomes Main Street at Oak Street.
Continue East on Main Street. Use the public parking lot on the right (south) side of Main Street after the State Farm Insurance offices.
The Fire Station is a very brief walk from the public parking lot. Continue East on Main Street to the next traffic light and use the main door on Main Street.
Especially during the day or with an emergency, parking around the Fire Station can be difficult. SKYWARN members coming to the Fire Station for an meeting or activation need to be alert to parking restrictions. SKYWARN is encouraged to use the 24-hour city lot to the west. ReMax offered the use of the lot on the WEST side of their building. Both of these areas are oulined in GREEN.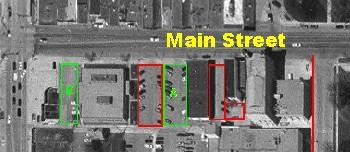 Places members MUST NOT park (outlined in RED) include:
Parking lot for businesses in the building with Dr. Mullerleille.
EAST side of the ReMax building.
West side of the Fire Station in back.
Cedar Ave. along the east side of the Fire Station.

When parking elsewhere, be aware of the normal city parking restrictions denoted by signs. Restrictions are in place by times of day and length of time. SKYWARN does not have any amnesty for violating posted parking restrictions.